Within The Ruins will be hitting the road for their North American tour this fall. Also on the lineup are Connecticut metal group Currents and Brisbane natives Aversions Crown.
The tour will kick off on October 19 in Hartford, CT and run through November 26 in Philadelphia, PA.
Tickets are on sale this Friday 8/18 here.
Tour Dates: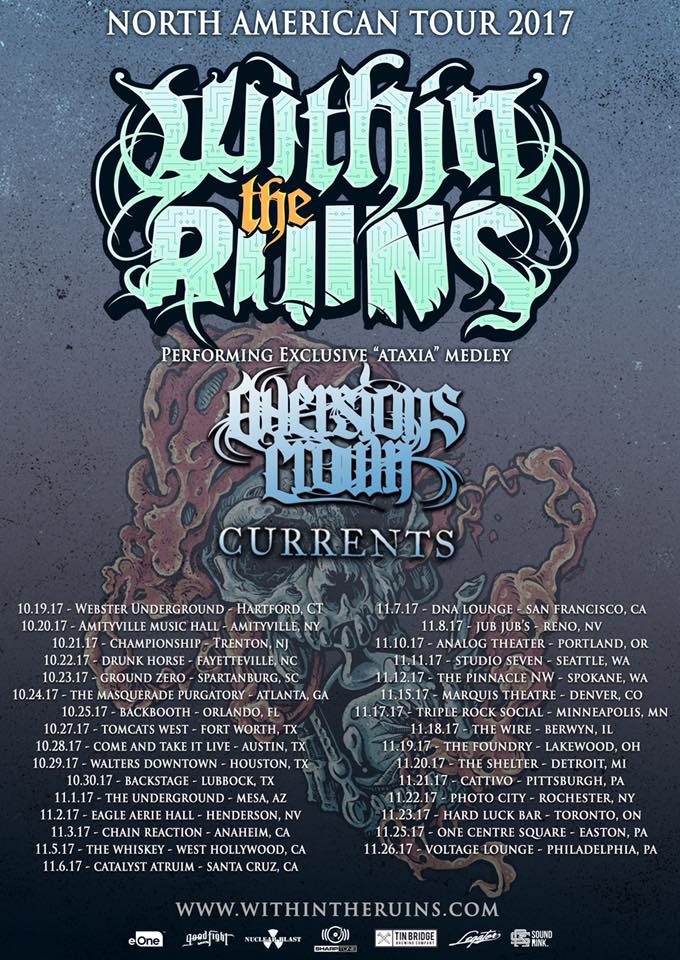 10.19.17‬ – Webster Underground – Hartford, CT
‪10.20.17‬ – Amityville Music Hall – Amityville, NY
‪10.21.17‬ – Championship – Trenton, NJ
‪10.22.17‬ – Drunk Horse – Fayetteville, NC
‪10.23.17‬ – Ground Zero – Spartanburg, SC
‪10.24.17‬ – The Masquerade Purgatory – Atlanta, GA
‪10.25.17‬ – Backbooth – Orlando, FL
‪10.27.17‬ – Tomcats West – Fort Worth, TX
‪10.28.17‬ – Come and Take it Live – Austin, TX
‪10.29.17‬ – Walters Downtown – Houston, TX
‪10.30.17‬ – Backstage – Lubbock, TX
11.1.17 – The Underground – Mesa, AZ
11.2.17 – Eagle Aerie Hall – Henderson, NV
11.3.17 – Chain Reaction – ‪Anaheim, CA‬
11.5.17 – The Whiskey – West Hollywood, CA
11.6.17 – Catalyst Atruim – Santa Cruz, CA
11.7.17 – DNA Lounge – San Francisco, CA
11.8.17 – Jub Jub's – Reno, NV
‪11.10.17‬ – Analog Theater – Portland, OR
‪11.11.17‬ – Studio Seven – Seattle, WA
‪11.12.17‬ – The Pinnacle NW – Spokane, WA
‪11.15.17‬ – Marquis Theatre – Denver, CO
‪11.17.17‬ – Triple Rock Social – Minneapolis, MN
‪11.18.17‬ – The Wire – Berwyn, IL
‪11.19.17‬ – The Foundry – Lakewood, OH
‪11.20.17‬ – The Shelter – Detroit, MI
‪11.21.17‬ – Cattivo – Pittsburgh, PA
‪11.22.17‬ – Photo City – Rochester, NY
‪11.23.17‬ – Hard Luck Bar – Toronto, ON
‪11.25.17‬ – ‪One Centre Square – Easton, PA‬
11.26.17 – Voltage Lounge – Philadelphia, PA