Pry announced that they will be hitting the road this summer with Lowpoints and Sleepers for the Northeast Beasts Tour.
The tour kicks off June 23 in Pennsylvania and will hit venues throughout the Northeast. Pry will also be on the road for a short run with Sabella, Kaonashi, and Refuge starting early June.
Listen to Pry's single, "Parasitic" below.
Tour Dates with Lowpoints, Sleepers: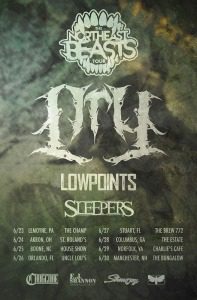 6/23- Lemoyne, PA @ The Champ
6/24- Akron, OH @ St. Roland's
6/25- Boone, NC @ House Show
6/26- Orlando, FL @ Uncle Lou's
6/27- Stuart, FL @ The Brew 772
6/28- Columbus, GA @ The Estate
6/29- Norfolk, VA @ Charlie's Cafe
6/30- Manchester, NH @ The Bungalow
Tour Dates with Sabella:
6/8- Hamden, CT @ The Space
6/9- Poughkeepsie, NY @ My Place Pizza
6/10- Turner Falls, MA @ Shea Theater
6/11- Clifton, NJ @ Dingbatz